Principal Protected Structured Notes
Are you looking for a low-risk investment strategy that offers potential market-linked returns while protecting your initial capital? The world of Principal Protected Structured Notes may be an exciting investment choice for you.
In this article, we delve deep into understanding these complex financial instruments, guiding you through their workings and features to help clarify if they're right for your investment portfolio.
Ready to discover the intriguing world of structured notes with principal protection? Let's dive in!
Understanding Principal Protected Structured Notes
Principal-protected structured notes blend a bond and a derivative part. These two parts both play big roles in the note's makeup. The bond is there to ensure that you get your original money back when the note matures or ends.
This full return of funds at maturity does not mean these notes have zero risk though.
The derivative part acts as a link to another asset, index, or benchmark. It decides your returns on investment (ROI). So even if you get your first sum back from the bond part, what happens with this second piece can change how much extra profit you make on top of that.
For example, when an underlying asset does well in its market, it raises the value of this type of note too.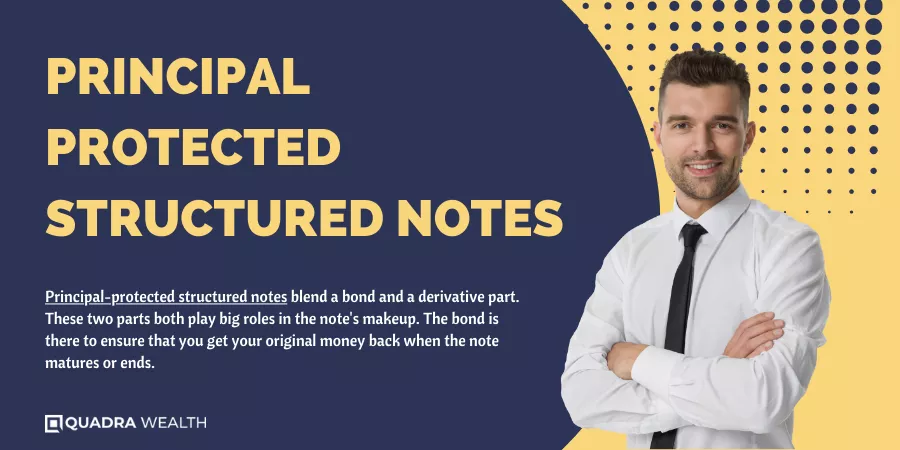 Key Features of Principal Protected Structured Notes
This part focuses on the main characteristics of the Principal Protected Note, including full principal protection which guarantees the return of original investment at maturity, and their transparent nature which ensures that all terms are clearly specified.
The structure can be formulaic or customized depending on the investor's individual needs for returns and risk tolerance.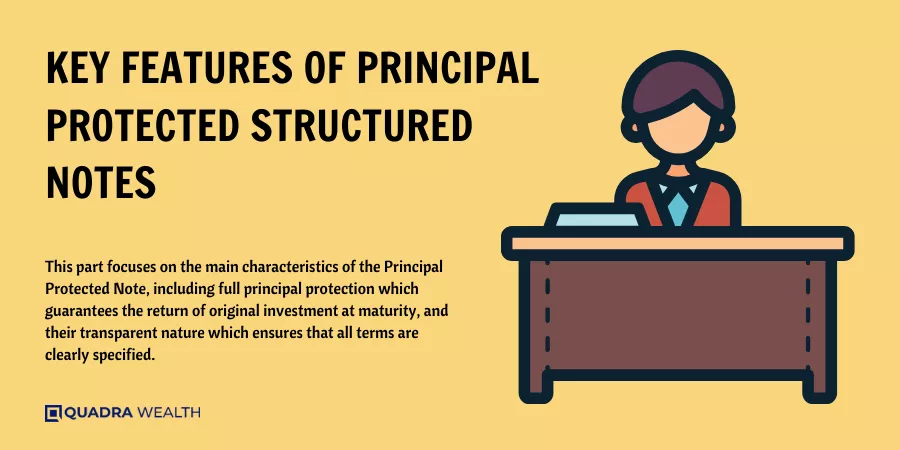 Full Principal Protection
Full Principal Protection gives you back all your money at the end. You can be sure no matter what, you will get back what you put in. This is true even if things do not turn out well for your investment.
The structured note with principal protection takes care of this.
Having full principal protection does have a catch though. There may be times when getting all your money back means missing out on big gains or higher returns that other investments might offer.
This safer path means less risk but it also often comes with more modest rewards.
Transparent, Passive and Formulaic
PPNs are clear for everyone to see. This means they are transparent. Their rules don't change and do not need a person to watch them all the time. In other words, they are passive.
They use a set formula to work out how much money you will get at the end. That's why we call them formulaic.
Customizing the Return and Protection
You can shape the gain and safety of your cash in the principal-protected structured note. These notes let you choose how much risk you want to take on. More protection means smaller gains, but less risk of loss.
Less protection gets more potential for big gains, but also a higher chance for a hit. This choice depends on what fits best with your needs and comfort level with risk-taking. Make sure to know the true cost of these choices as there may be hidden fees or rules that make things harder than they seem at first glance.
How Principal Protected Structured Notes Work
"Principal Protected Note functions by investing your money in a zero-coupon bond and an option to provide principal protection and potential returns. Delving deeper into the underlying assets, protection level types, and return payoffs can cultivate a comprehensive understanding that drives wise investment decisions." Dive right into our blog post to grasp a clear picture of how Principal Protected notes work.
The underlying asset in a principal-protected structured note could be many things. It might be an index, single stocks, or even commodities. How the note works links to this asset.
If its value changes, so does the return of the note.
A great part about these notes is that you can still make money from them. Even if you don't own any of the assets they link to, your returns will mirror their performance. But remember – owning a note is not like owning these actual assets!
Protection Amount and Type
Structured notes with principal protection come in two types. Hard protection acts like a cover from losses, while soft protection works as a wall against the same. The level and kind of safety can change based on the rules of the notes.
This means your money is safe to a certain amount or type that fits those rules.
You get money back from Principal Protected Notes in two ways. The first one is the safe return of your principal at maturity if market conditions align. Second, you can gain extra funds from increases in the value of underlying assets like stocks or indices.
These gains tied to market performance are often called payoffs. A good payoff usually depends on rules set by a return formula. This says how much money you collect based on changes in market values over time.
Pros and Cons of Principal Protected Structured Notes
With Principal Protected Structured Notes, you can reach for higher gains. You get your main money back at the end. These notes are complex and advice is key before you dive in. Even though they are tricky, lots of people now pick these as an option to invest their money wisely.
In This Article Unravel the Secrets of Phoenix Structured Notes: What You Need to Know
Read More »